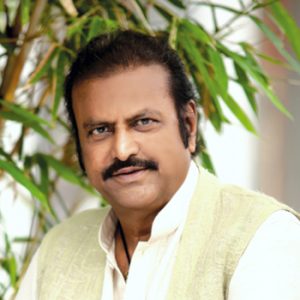 Dr.Mohan Babu Manchu is an Indian film actor, director, and producer, known for his works in Telugu Cinema. He is the founder and chairman of MB Corporation, and he represents a living example of unbound commitment to business excellence. He is not only an actor but a role model and an enthusiastic leader of one of the fastest growing educational institutions. Under his leadership, the organization is dedicated to providing custom-made quality services with state-of-the-art equipment and technology. His vision and dedication make him a leading figure in media, entertainment, and education industries, while his generosity helps him reshape reality in accordance with his dreams.
Mohan Babu Manchu founded Hyderabad based Sree Lakshmi Prasanna Pictures company in 1982 and named it after his daughter, Lakshmi Prasanna Manchu. The company became known for its blockbuster films such as Assembly Rowdy, Alludugaru, Pedarayudu, Major Chandrakanth, Rayalaseema Ramanna Chowdary, and others.
His son, actor Vishnu Manchu, established a subsidiary company in 2007, called 24 Frames Factory. This company continued the tradition of producing hit films, some of which are Doosukeltha, Dhenikaina Ready, Rowdy, Current Theega, and Dynamite.